UPDATE: Can Prayer Wake Up Someone from a Coma? YES.
0
person voted for this
people voted for this
|
The more I find out about Jimmy's story of healing, the more I realize how God's hand was truly on his life.  On Saturday night, I took Nikko's invitation to go to a fundraiser for Jimmy's medical bills at Palms Cycle on Venice and Motor. 
As I mentioned in the last post, I felt that God had a plan for the fixed gear biking community - that they would hear the story of Jimmy's miraculous healing and that their hearts would be convicted for the Lord.  I remember God putting that on my heart, even before I found out that Jimmy had woken up from the coma.  So as I parked my car across the street from Palms Cycle on Saturday, I stopped to pray before I went in.  I prayed "God, I'm here because of you.  Whoever you want me to meet tonight, send them to me, make it happen."
So I walked into the back lot behind Palms Cycle, not knowing what to expect…[click "Read More" below to continue]
When I got there, it was almost a scene out of a bicyle adaptation of Mad Max.  Bicycles stacked up everywhere against rusted oil cans and chain link fences, gnarly guys with shaved heads and big goatees milling around, crowds screaming as kids on stationary bikes pedaled furiously to see who could trip the spedometer faster, the smell of cheap keg beer spilled on the ground.  It was dark outside, but as I was walking around, I happened to run into Nikko, who recognized me immediately, before I noticed him standing there.
"Dan?  Hey man, glad you came!" he said.
"Thanks for inviting me bro, I'm really glad I could come to support the cause," I replied.
"Hey, did you know that Jimmy's mom is here?"
"Really?"  I said.  "Could you introduce me to her?"
God had immediately answered my prayer.  I wasn't expecting to have a chance to meet Clarisse in person, and I thought I was just supposed to go this event to talk about the miracle with Nikko and his fixie friends, but God truly had another plan for the night.
Nikko brought me over to Clarisse, who was sitting on a lawn chair with Jimmy's younger brother Dennis.  When Nikko explained that I was "Dan, the guy whose church group prayed for Jimmy," Clarisse immediately jumped up, grabbed me in a big bear hug, and wouldn't stop hugging me for almost a minute.  "Thank you, thank you, thank you," she kept repeating.
"Don't thank me," I said.  "Thank God, because you guys just witnessed a miracle with what happened to Jimmy."
As soon as Clarisse and I started to talk, I felt the warmth of the Holy Spirit fill me up completely, that joy of knowing that God was with us, between us, in that moment.  I shared with Clarisse how I'd felt convicted to pray for Jimmy as soon as I heard about what happened to him, and how God had engineered it for me to meet Nikko by chance to get us connected.
Clarisse, with tears welling up in her eyes, starting bearing her soul to me, about how Jimmy had nearly died five times.   Five times, he was near death when he was in his coma, but God had spared him.  She said she hadn't really been a practicing believer for a while, but every day she went into the chapel at the church and poured her heart out to God, begging Him to spare her son's life.
I shared with her about how Jesus' healing ministry was focused on being healed through faith, and how it wasn't just that a lot of people were praying for Jimmy, but it was her strong faith before God that was why Jimmy was able to wake from his coma.
"I never once stopped believing God would wake him up," she said.
I told Clarisse about how that's exactly the kind of relentless pursuit of God that He wants from us – like Jacob in the Old Testament, wrestling with the Angel of the Lord all night, saying "I'm not going to let you go until you bless me."
As Clarisse and I were talking, two complete strangers bearing our souls about how amazing this miracle was, a small crowd starting forming around us, just listening, taking in the moment.  Dennis, Jimmy's brother, stood there quietly taking it all in. Then Clarisse's stepfather walked up saying "I believe in God, but man…this was something else."  Nikko stopped by to check on us.  Then Clarisse's best friend walked up, another woman in her forties.
Clarisse continued her story.  The doctors that had admitted Jimmy after the accident were completely shocked, SHOCKED, when Jimmy woke up from his coma.  Apparently, when he had come in, they had assumed the worst – that he would end up dying or be a vegetable after all that happened.  But when Jimmy not only woke up, but starting TALKING, first to his family, and then calling his friends on the cell phone, the doctors were in total disbelief.  It was such a miraculous healing that everyone in the hospital was talking about it.  "Did you hear that 519 woke up?"  "519?  Are you serious, how could that be?"  "Yes, he's awake and he's TALKING."  Given the seriousness of the injury, the fact that Jimmy would wake up at all, let alone have full brain function, the ability to speak, and his full memory, was nothing short of a miracle.
But the story didn't end there.  The doctors first told Clarisse that Jimmy would have to be in the ICU for at least 2 months, but now, only 3 WEEKS later, he had already been transferred out of the ICU and into the orthopedic ward.  And Clarisse said the doctors are even going to let Jimmy go home in another week!  Praise God!
I was so moved by all the new details I was learning about the story, that I didn't care where I was.  I asked Clarisse if she would mind if I prayed for her then and there.  She said "Please, please pray!"  And she held out both hands towards me.
When I saw her eyes closed and her hands held out, I was reminded how ridiculous this must have looked to all the bike kids around us.  But this was God's moment, and nowadays I cherish these opportunities to look like a fool if it's for Him.  So I grabbed her hands and starting praying for her loudly, right there, in the middle of this crowd, behind a bike shop in front of everyone.
I thanked God for delivering Jimmy miraculously from injury, for waking him up, and for his divine plan not only for Jimmy but for her entire family.  I prayed that he would experience full recovery, and not only walk again, but RUN again, and even RIDE HIS BIKE again.  I prayed for strength for their family and that God's hand would be on all of them individually.  I prayed that this would be a turning point for them as a family, and for this community as well.
As we finished praying, Clarisse looked up at me, with her eyes watery and said "This has really made me reconsider a lot of things in life."  She told me how she had grown up in the church, how her father had even been a pastor(!), but how she left the church because of how judgmental church people had been to her.  She said she never lost her relationship with God, but that she had been exploring "spirituality" while living in Venice, because she felt that was more real.  But then she asked me if I could get her family connected, plugged into a church again.  I said absolutely and gave her my cell phone number.
After I finished talking to Clarisse, I knew that I had met and spoken to who God had intended for this night.  So I gave Clarisse one more hug and walked back to my car.
How amazing was it, I thought, that God would connect two complete and total strangers, from totally different worlds, from different races, from different communities, whose lives would have never crossed, but for the grace of God and for his incredible plan for all of us to have our lives overlap for this fleeting moment and for this very purpose.  God truly has a plan.  A plan for goodness and blessing and love for our life, if all we do is just listen and hear his voice.
Postscript: Clarisse asked us if we would continue to keep them in prayer "because they really need it right now."  So please keep James "Jimmy" Hanson, his mother Clarisse, and their whole family in prayer.  Pray that God will continue his miraculous work on healing, and that Jimmy would be fully restored, all of his bones mended, and that he will have the ability to fully walk, run and ride his bike again!  Jimmy is still at the orthopedic ward at Cedars Sinai, but pray for him as he's discharged this week.  Please also pray for the fixed gear community in our city, that they would hear about this miracle and have their hearts stirred for God.
Postscript 2: I just found this flyer online for Jimmy's fundraiser, which adds another incredible detail to this story.  Just before the ride where he crashed, someone at Palms Cycle happened to give Jimmy a helmet to wear that ended up saving his life!  Coincidence or God's protection?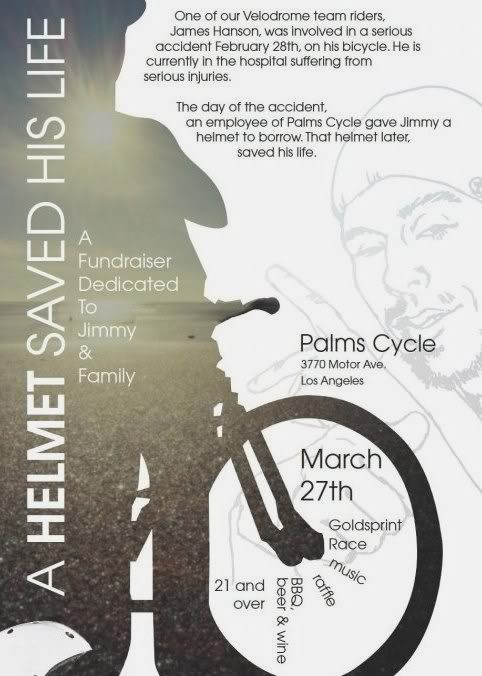 Comments
comments